Renovation Update – January 2023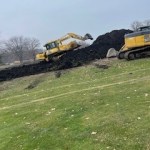 Great progress has been made on the golf course stormwater project thus far. The par 3 course work is mostly completed with only some box culverts and storm drains remaining to be installed. Currently, all work is happening on the 18-hole course. The #17 pond has been excavated, and the larger retention pond excavation will start as weather allows.
Topsoil has been spread on a few fairways as planned, but work has slowed due to the wet weather. Most of the tree removals are complete, with only large debris left to be hauled away. Progress has also been made in raising/lowering/removing existing drain basins and sprinkler heads throughout the property. Depending on the weather, work will continue all winter long.
Please find the below video showing some of the stormwater work being performed – (credit Clay Kerr – Adapted Chicago).