Due to the start of the stormwater management project, the 18-hole Course at our Winnetka Golf Club will be closed effective Monday, October 31.
We appreciate your patience, understanding, and support knowing this multi-year project will impact your time on our courses.
The Park District is excited to collaboratively work with the Village of Winnetka in support of the stormwater project. We also look forward to offering our community, and beyond, a brand new nine-hole course and 18-hole course in the future!
Additional stormwater project information will be provided as it becomes available. Please follow us on social media and subscribe to our email list to stay up-to-date: https://www.winpark.org/subscribe/
Please call the club at (847) 501-2050 if you have questions.
Scorecard – 18 Hole Course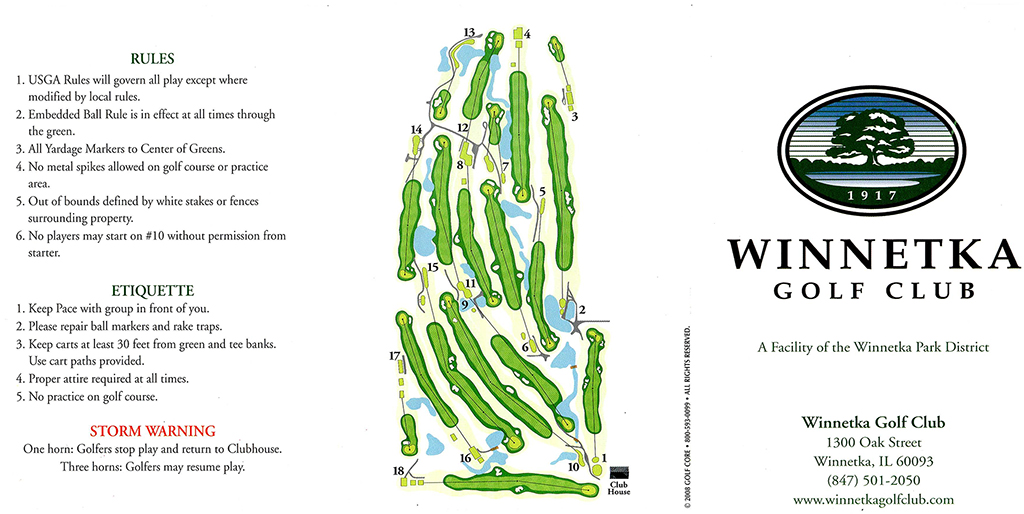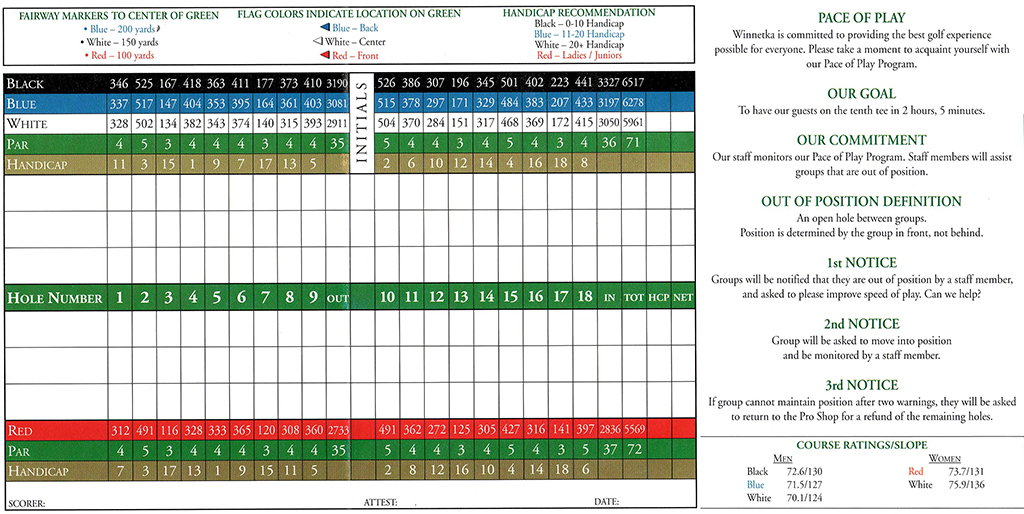 Official CDGA Yardage
| | | | | |
| --- | --- | --- | --- | --- |
| Hole | Black | Blue | White | Red |
| 1 | 346 | 337 | 328 | 312 |
| 2 | 525 | 517 | 502 | 491 |
| 3 | 167 | 147 | 134 | 116 |
| 4 | 418 | 404 | 382 | 328 |
| 5 | 363 | 353 | 343 | 333 |
| 6 | 411 | 395 | 374 | 365 |
| 7 | 177 | 164 | 140 | 120 |
| 8 | 373 | 361 | 315 | 308 |
| 9 | 410 | 403 | 393 | 360 |
| 1-9 T | 3190 | 3081 | 2911 | 2733 |
| 10 | 526 | 515 | 504 | 491 |
| 11 | 386 | 378 | 370 | 362 |
| 12 | 307 | 297 | 284 | 272 |
| 13 | 196 | 171 | 151 | 125 |
| 14 | 345 | 329 | 317 | 305 |
| 15 | 501 | 484 | 468 | 427 |
| 16 | 202 | 383 | 369 | 316 |
| 17 | 223 | 207 | 172 | 141 |
| 18 | 441 | 433 | 415 | 397 |
| 10-18 T | 3327 | 3197 | 3050 | 2836 |
| 1-18 T | 6517 | 6278 | 5961 | 5569 |
| | | |
| --- | --- | --- |
| Men | Course Rating | Slope |
| Black | 72.6 | 130 |
| Blue | 71.5 | 127 |
| White | 70.1 | 124 |
| Women | Course Rating | Slope |
| Red | 73.7 | 131 |
| White | 75.9 | 136 |
Layout – 18 Hole Course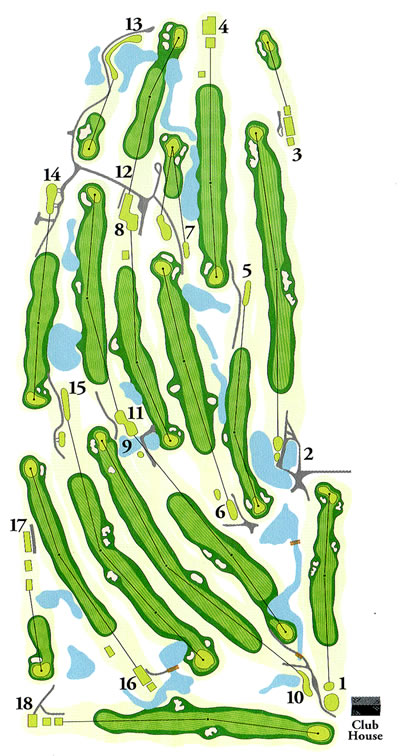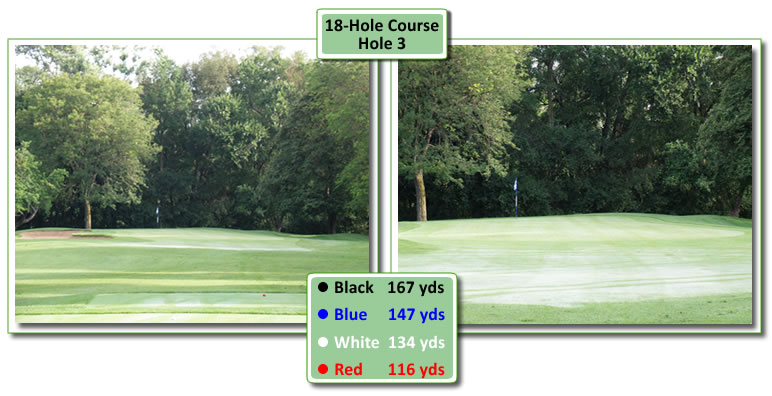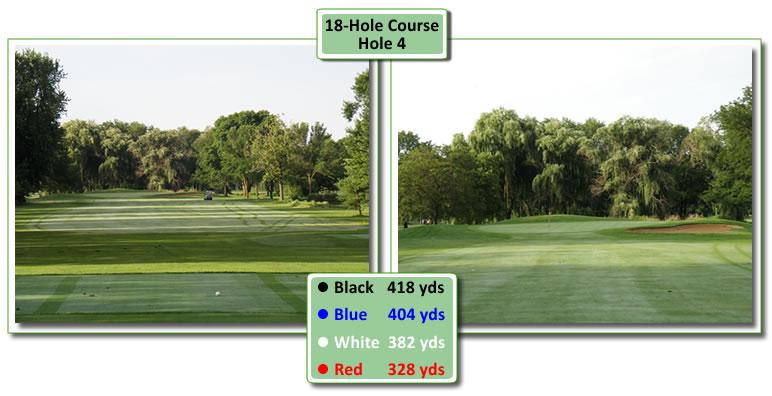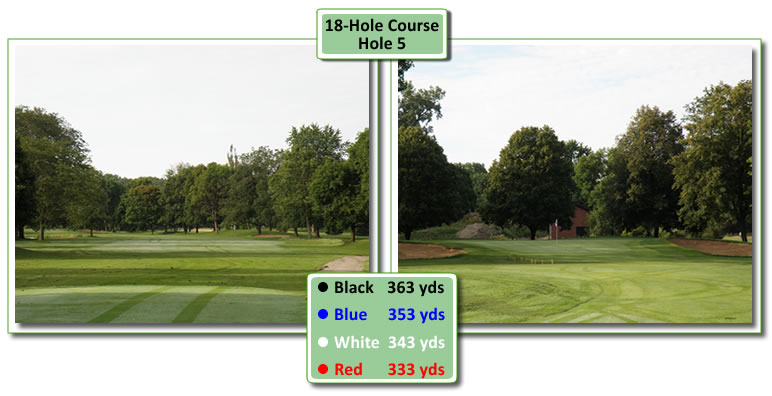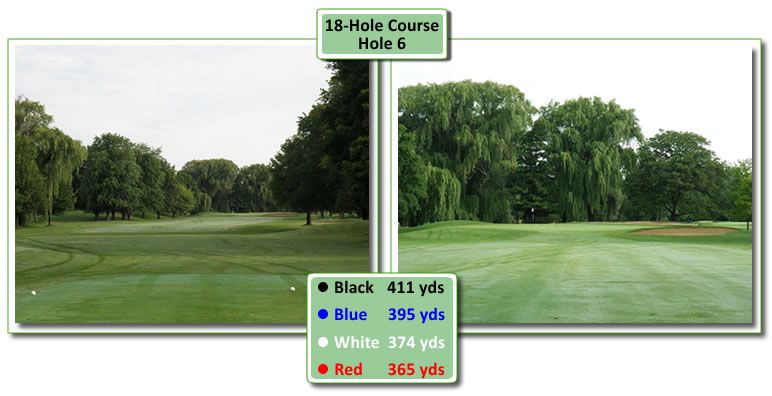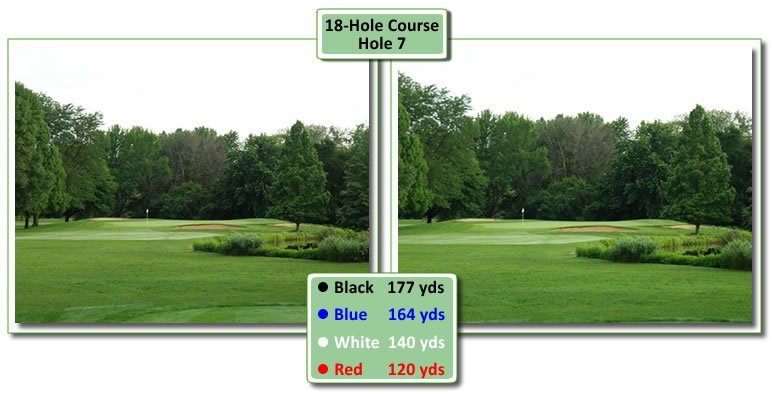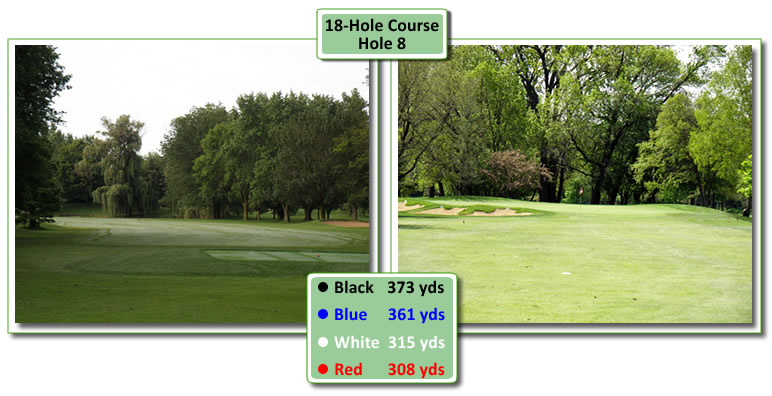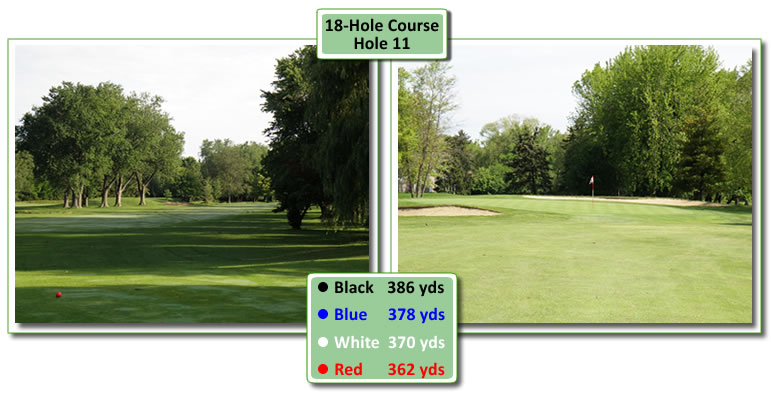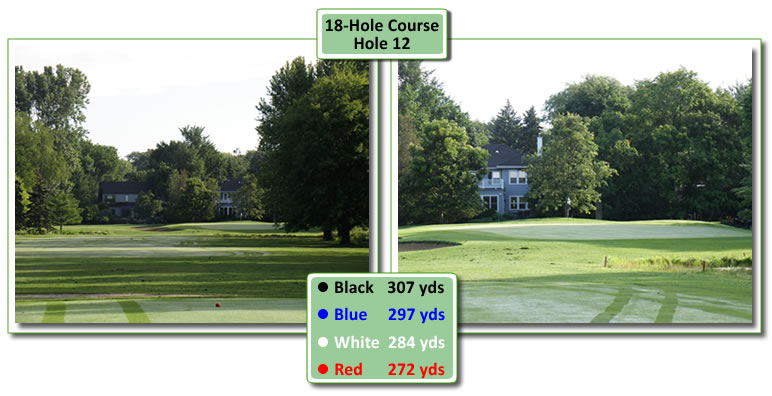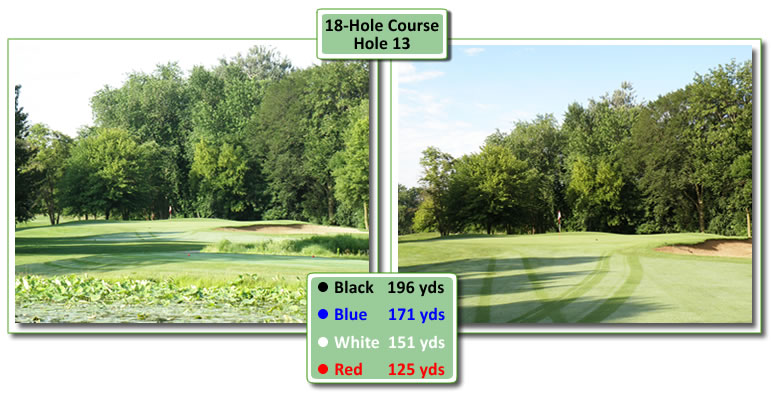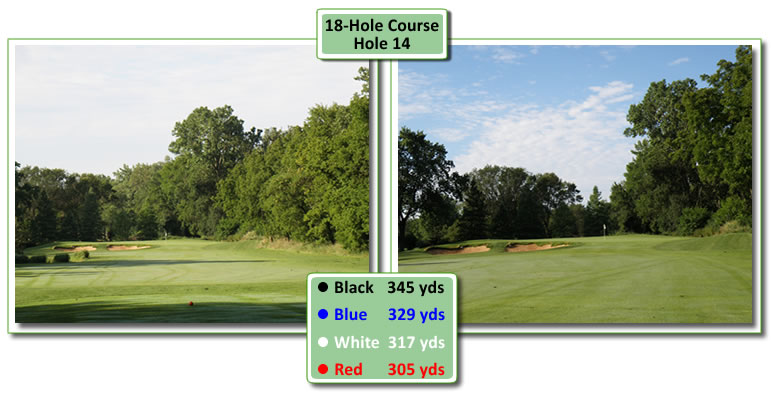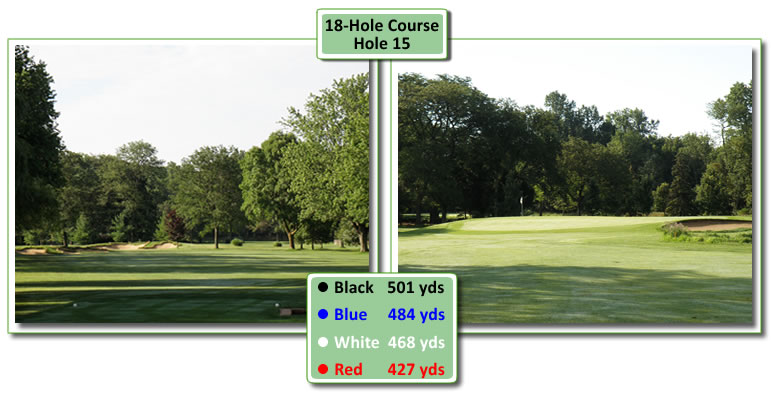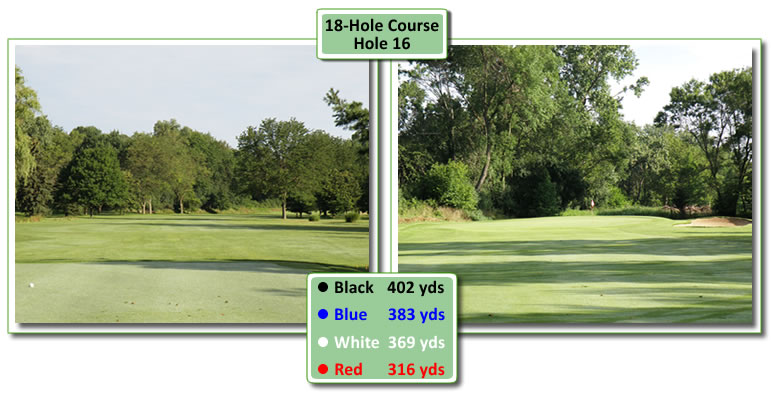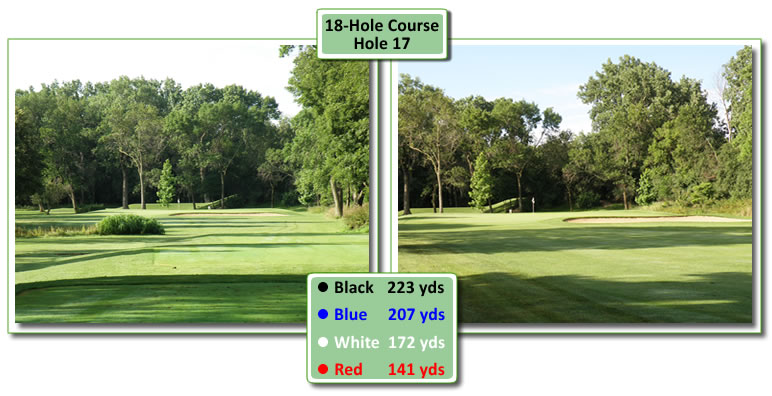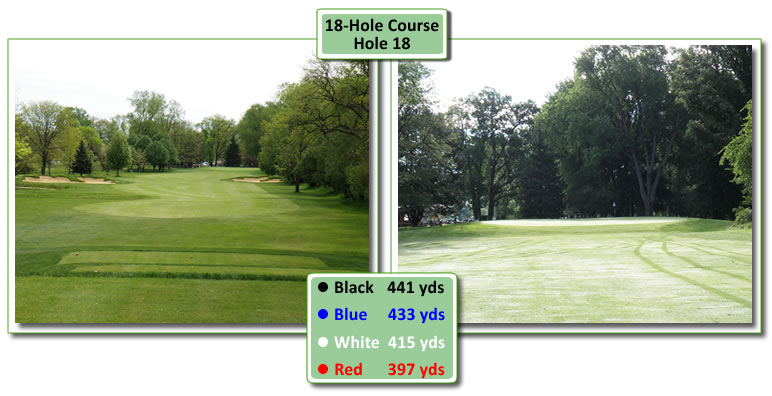 18 Hole Course
Hole 1
Hole 2
Hole 3
Hole 4
Hole 5
Hole 6
Hole 7
Hole 8
Hole 9
Hole 10
Hole 11
Hole 12
Hole 13
Hole 14
Hole 15
Hole 16
Hole 17
Hole 18